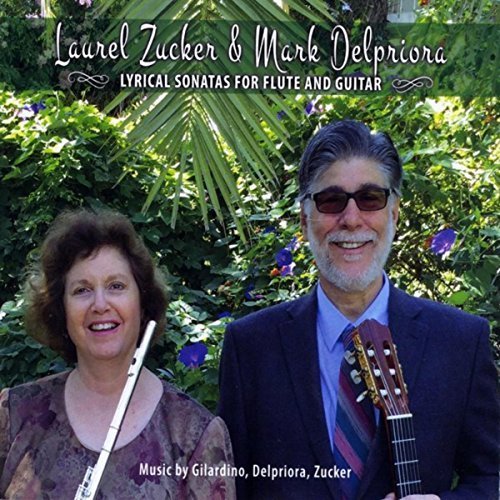 Una consistente fetta del repertorio di musica da camera con chitarra appartiene alle pagine scritte per chitarra e flauto. Molto spesso in questa nota formazione la chitarra è relegata ad un ruolo secondario, un tappeto talvolta ritmico talvolta armonico. Il nuovo disco di Laurel Zucker (flauto) e Mark Delpriora (chitarra) scardina questo cliché includendo nella tracklist composizioni dove gli strumenti, nel loro definito ruolo, non rendono l'altro quasi mai subordinato e quando questo accade è per ragioni puramente responsoriali.
Le composizioni sono "Sonata for flute and guitar" di Mark Delpriora, "Honduras Sonata for flute and guitar" e "Biddy Biddy" di Laurel Zucker e "Sonatina-Lied for glute and guitar" di Angelo Gilardino.
Conoscevo bene la Sonatina-Lied gilardiniana mentre è stata una sorpresa la Sonata di Mark Delpriora che non avevo mai letto né ascoltato.
Il materiale del primo movimento ("Moderato") proviene da una elaborazione musicale che il compositore ha fatto della prima Stanza nel poema "Stanzas Written in Dejection, near Naples" di Percy Bysshe Shelley (1792-1822). Le singole linee della "Stanza" del poema fungono da vere e proprie mappe di ascolto del brano sia in senso puramente ritmico - come è facile intuire trattandosi di un testo poetico - sia in senso più profondo e significativo. L'esperiemento è perfettamente riuscito: prevale fin delle prime pulsazioni la tecnica compositiva di Delpriora, inconfondibile e impeccabile.
"Aubade" è un titolo usato, generalmente, per identificare una canzone che sottolinea la separazione degli amanti al giungere dell'alba. Nel secondo movimento della Sonata di Delpriora invece, la canzone è una vera e propria raffigurazione in musica di una coppia che non si abbandona nelle prime ore dell'alba ma si risveglia, interagisce per poi tornare a dormire. In questo movimento Delpriora mostra un'abile fantasia melodica. Il tema principale malinconico e solare allo stesso tempo, viene esposto prima con severità e gli elementi cardine che lo compongono sono utilizzati come materiale dello sviluppo centrale, più drammatico. Il ritorno alla quiete è solo un ricordo della malinconica canzone iniziale. Delpriora non si abbandona mai a costrutti preconfezionati - facile cadere in tranelli simili in composizioni di questo genere - e impreziosisce le tre parti della composizione con una intelligente costruzione armonica.
L'impetuoso "Allegretto" è una pagina tripartita che si apre su un marcato fondo ritmico dettato dalla chitarra con il fortissimo della voce del flauto che esegue veri e propri voli pindarici fatti di schegge di luce e rapidissimi cambi di registro. La sezione centrale è un richiamo all'atmosfera di riflessivo abbandono del secondo movimento con un disegno armonicamente più denso da parte della chitarra. Il carattere riflessivo di questa seconda sezione non è preparato e si manifesta ex-abrupto, contrastando nettamente con le due parti ritmiche.
Nella ripresa sono rielaborati la maggior parte degli elementi introduttivi con variazioni e piccole varianti sia nella struttura che nel ruolo dei vari elementi.
La Sonata di Mark Delpriora è pubblicata da Les Production Oz.
Chi suona in un duo Chitarra e Flauto ne approfitti: si tratta di un'ottima composizione.