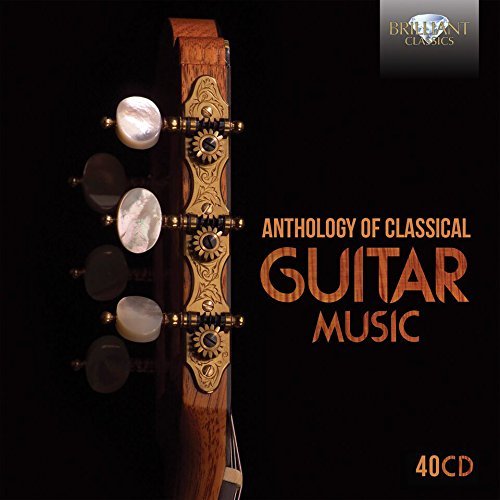 Anthology of Classical Guitar Music, AAVV
146 visite
L'etichetta discografica olandese Brilliant Classics propone al mercato un poderoso CD Set composto da 40 CD dedicati alla chitarra Classica. In allegato il PDF con le singole tracklist dei volumi.
Da IBS.it:
La più ampia collezione disponibile di brani per chitarra! Questo set di 40 CD abbraccia diversi secoli di musica per chitarra: dal barocco, dove la chitarra ha guadagnato la preferenza rispetto al liuto, al periodo classico, periodo in cui si è gradualmente stabilizzata come strumento da concerto. Nel suo paese d'origine, la Spagna, molti compositori del XX secolo hanno esteso la gamma delle sue possibilità sonore dedicandole anche nuove forme compositive. Le registrazioni presentano i migliori chitarristi di fama internazionale, rendendo la collezione un prezioso strumento sia per gli esperti che per gli amatori del repertorio.
Dal sito dell'editore:
Guitar lovers are lucky enough to have their pick of repertoire, spanning the entire globe as well as many centuries. Never before, however, have they been able to listen to their favourite pieces all in one place – from Baroque to 20th Century, from Latin America to north Germany. This ambitious and expansive set of 40 CDs brings together a wide range of works for solo guitar guaranteed to satisfy those eager to explore repertoire both known and unknown. 
We start our journey with Robert de Visée, born around 30 years before J.S. Bach. His Suites – which may also have been played on a lute or theorbo – are fascinating examples of some of the only existing French Baroque music for guitar. Bach himself did not write as much music for the stringed instrument as he did for keyboard; however, the transcriptions of his violin Partitas work perfectly on the guitar. Likewise, Sonatas by Domenico Scarlatti have been transcribed here from the keyboard for the guitar. The Italian composer worked in Spain for the majority of his life, and the Spanish influences he picked up there make a smooth transition to the stringed instrument. 
The Classical and Romantic eras saw a period of development. Fernando Sor, one of the most important figures in guitar music, elevated the guitar from a 'tavern' instrument to one that commanded respect. He himself contributed a vast amount to the guitar canon – such as his Études – alongside the Italians Ferdinando Carulli and Luigi Rinaldo Legnani and Sor's pupil, Napoléon Coste, who became the leading guitarist in his native France. 

Sor's 20th-century successor is arguably Francisco Tárrega, considered the father of the guitar. His technical innovations helped to raise the profile of the guitar as a solo instrument, as he successfully persuaded Antonio de Torres Jurado to construct a large instrument suitable for use in concert halls. The Spaniards dominated this period – alongside Tárrega were Isaac Albéniz (who never actually wrote specifically for the guitar, but whose music has been arranged a number of times), Joaquín Turina, Joaquín Rodrigo and Manuel de Falla. Rodrigo's homage to Falla – the Invocación y danza – shows the composer's recognition of Falla as one of the greatest influences on Spanish composers working in the latter half of the 20th century. 
Next, we travel across the Atlantic to investigate one of the most important locations for the creation of guitar music: Latin America. Composers working here took particular inspiration from indigenous influences, including the Paraguyan Agustín Barrios Mangoré and the Argentinian Ástor Piazzolla. Manuel Ponce, a leading Mexican composer, wrote his famous Estrellita, which soon became a beloved Mexican folk song. It is present here in a sparkling arrangement for solo guitar. 
The 20th century saw the expansion of the guitar across the globe. The repertoire grew widely, thanks to composers from such diverse places as Russia, Poland and the Netherlands. German composer Hans Werner Henze wrote his original Royal Winter Music, based on Shakespearean characters, in the late 1970s. Jewish composer Mario Castelnuovo-Tedesco, born in Italy, spent much of his career in Hollywood, after fleeing the Nazi threat in Europe in 1939. He still wrote much classical music alongside his works for the big screen, including his well known Les Guitares bien tempérées. Dutch composer Henk Badings was discredited after the war for having cooperated with the Nazis. A recent renewed interest in his music has resulted in this recording of his Twelve Preludes for solo guitar – a world premiere for Brilliant Classics, first released in 2012. 
This set features performers of international quality. Among them are: the Paganini expert Luigi Attademo; Cristiano Porqueddu, who will be performing in New York's Carnegie Hall in July 2017; Frédéric Zigante; Giulio Tampalini; and many more besides. There are numerous world premiere recordings, of works both modern and older, thanks to recent rediscoveries. The guitars used range from carefully crafted modern instruments to period instruments, including the 'Sabionari' guitar by Antonio Stradivari. The release will be sure to satisfy both guitar aficionados and those looking to dip in and out of a diverse mixture of guitar music from around the globe. 
The most extensive guitar collection available! This 40 CD set spans several centuries of guitar music: from the Baroque where the guitar gained preference over its ancestor the Lute, to the Classical Period in which the instrument was emancipated and gained its rightful place as a serious concert instrument, through Spain, its country of origin, right into the 20th century where famous composers extended its sonic possibilities to the very borders of the spectrum. A treasure trove of unprecedented scope and substance, for both connoisseur and music lover, performed by world class guitarists! 
Recorded between 1996 and 2015. 
Contains liner notes written by Philip Borg-Wheeler specially for this release. 
The booklet presents the necessary background to the music, putting each composer in his historic perspective.
---
Maggiori informazioni:
http://www.brilliantclassics.com/articles/a/anthology-of-classical-guitar-music/
---