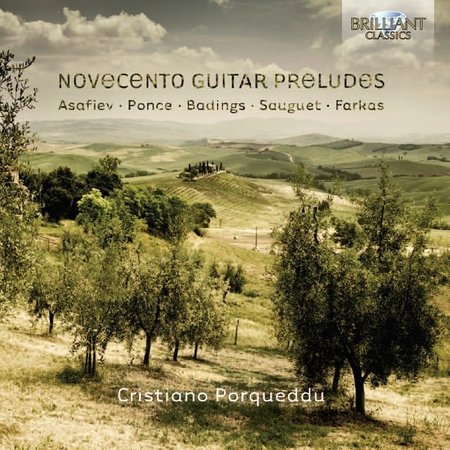 Novecento Guitar Preludes

Anno di pubblicazione: 2012
Etichetta discografica: Brilliant Classics
Periodo: 10 Settembre 2010 – 10 Ottobre 2011
Sede: Chiesa della Solitudine (NU)
Chitarra: Livio Lorenzatti 2009
Corde: Savarez Alliance
Post-produzione: Me.To. Recording Studio
Novecento Guitar Preludes è un cofanetto di 3 CD contenente settantacinque preludi per chitarra di autori del XX e del XXI secolo. Si tratta del primo tassello del progetto discografico decennale Novecento Guitar e la la tracklist completa è disponibile facendo clic qui.
Novecento Guitar Preludes è il primo tassello della serie di pubblicazioni discografiche "Novecento Guitar". La serie prevede le seguenti uscite:
 Novecento Guitar Preludes (2012) 
Novecento Guitar Variations (2022)
Da IBS.it
Opere di Boris Asafiev, Manuel Maria Ponce, Henk Badings, Henri Sauguet e Ferenc Farkas
Nato come introduzione a un'opera più complessa (come una suite o una fuga), il preludio iniziò a conquistare una certa indipendenza con Johann Sebastian Bach e nel XIX secolo conobbe una buona affermazione con brano caratteristico in forma libera grazie soprattutto alle omonime opere di Chopin. Questo cofanetto triplo propone una vasta panoramica dei preludi per chitarra composti nel corso del XX secolo da compositori dalla provenienza e dagli stili diversissimi come Boris Asafiev, Manuel Maria Ponce, Henk Badings, Henri Sauguet e Ferenc Farkas, nella maggior parte dei casi in prima registrazione mondiale. A condurci in questo stimolante viaggio di scoperta è Cristiano Porqueddu, chitarrista dotato di una tecnica impeccabile e di un repertorio vastissimo, che per la Brilliant Classics ha già realizzato una serie di dischi dedicati a Barrios (BRIL 9204), Gilardino (BRIL 8886) e Sor (BRIL 9205) recensiti in termini molto positivi dalla stampa specializzata di tutto il mondo.
Dal sito dell'editore:
This collection brings together guitar preludes by Asafiev and Ponce, and includes world premiere recordings of Badings's 12 Preludes, Sauget's 3 Preludes and Farkas's Exercitium Tonale. Despite their very different styles, these composers are all linked together by a single trait: none of them were guitarists.
Originally bemoaned by patron Andrés Segovia for their fiendish difficulty, Ponce's 24 Preludes begin the compilation. Cast in each of the major and minor keys, and arranged in a circle of fifths, they are followed by Asafiev's 12 Preludes — which, written in a single day, were probably intended as a single piece. This is also true of Bading's ensuing 12 Preludes, as confirmed by the same harmonic progression with which the work begins and ends. From the use of contrasts that appear throughout the movements, as exemplified in the strong, primitive rhythms of 'Yaya', to the air of mystery and timelessness that pervades Sauguet's offering, the compilation continues its stylistic journey, ending with Farkas's Exercitium tonale of 1982 — a work which hints at a composer unafraid to push the performer to their limits or to be unpredictable in his use of harmony and counterpoint.
Cristiano Porqueddu, described as 'a point of reference for the new generation of guitarists', graduated from the Lorenzo Perosi International Academy in Biella, Italy. With an extensive knowledge of the technique and interpretation of 19th- and 20th-century music, he has won numerous international awards and now sits on the jury of several major guitar competitions. This is Porqueddu's sixt recording for Brilliant Classics.
Anteprima di alcune tracce:
---