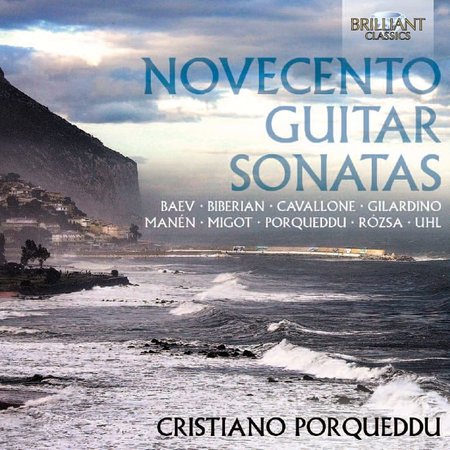 Novecento Guitar Sonatas
(C) 2014 – Brilliant Classics
Anno di pubblicazione: 2014
Etichetta discografica: Brilliant Classics
Periodo: 19 Ottobre 2012 – 23 Gennaio 2014
Sede: Chiesa della Solitudine (NU)
Chitarra: Giuseppe Guagliardo
Corde: Augustine Imperials, Savarez Crystal
Il cofanetto di 5 CD Novecento Guitar Sonatas è il secondo tassello del progetto discografico decennale Novecento Guitar. È composto da diciannove sonate per chitarra di autori del Novecento e contemporanei. La tracklist completa è disponibile facendo clic qui.
Novecento Guitar Sonatas è il primo tassello della serie di pubblicazioni discografiche "Novecento Guitar". La serie prevede le seguenti uscite:
 

Novecento Guitar Sonatas (2014)

Novecento Guitar Variations (2022)
Da IBS.it
Opere di Gilbert Biberian, Franco Cavallone, Georges Migot, Evgeni Anatolyevich Baev, Alfred Uhl, Angelo Gilardino, Cristiano Porqueddu e Miklós Rózsa
Questo splendido cofanetto di cinque CD tratteggia un quadro molto affascinante della produzione per chitarra del XX secolo. Ad accompagnarci in questo esaltante viaggio è Cristiano Porqueddu, definito dalla stampa specializzata «un punto di riferimento per la nuova generazione di chitarristi», che esegue con brillantezza e assoluta padronanza stilistica un ampio ventaglio di sonate per chitarra di Evgeni Baev, Gilbert Biberian, Franco Cavallone, Joan Manén, Georges Migot, Angelo Gilardino, Miklós Rósza e – last but not least – un brano di sua composizione. Queste opere spaziano tra stili molto diversi, dall'impressionismo all'espressionismo, dalle scritture più semplici alle architetture più complesse, dai motivi di origine popolare, ai toni descrittivi e alla musica assoluta. A proposito dell'antologia di preludi di autori del XX secolo realizzata qualche tempo fa da Porqueddu, il critico di Musicweb ha scritto: «Questa splendida raccolta pone la chitarra sullo stesso piano degli altri strumenti classici [...] dimostrando che si tratta di uno strumento degno della massima considerazione», un giudizio molto lusinghiero, che può essere esteso anche a questo cofanetto di sonate, che costituisce un titolo al tempo stesso interessante e molto gradevole, che saprà piacere sia agli studiosi, sia ai chitarristi sia ai semplici appassionati. Questo cofanetto è corredato da esaurienti note di copertina firmate dallo stesso Cristiano Porqueddu. Originario di Nuoro, Cristano Porqueddu ha iniziato a studiare chitarra classica con il padre e in seguito ha conosciuto il compositore-chitarrista Angelo Gilardino, che gli ha dedicato il Concerto di Oliena per chitarra e orchestra.
Dal sito dell'editore:
Pioneering guitarist Cristiano Porqueddu follows his fascinating set of Novecento Guitar Preludes – released on Brilliant Classics in 2012 and hailed by MusicWeb International as 'a most compelling collection [where] the guitar is placed on a par with other classical instruments: something to be treated seriously' – with this equally intriguing selection of 20th-century guitar sonatas.
Featuring a wealth of world premiere recordings, the collection is yet another showcase for Porqueddu's spirit of adventure.Once again, Porqueddu takes us on a colourful journey that passes through all kinds of different styles and moods: from Gilbert Biberian's fusion of traditional formal structures with the dance and folk music of the Middle East to Franco Cavallone's four sonatas that are inspired by such diverse influences as Ravel, Ponce, Bernstein and the 20th-century Italian composers Frazzi and Lupi; from Angelo Gilardino's evocative sonatas that recall great Italian paintings and warm Mediterranean winter days to Georges Migot's refined and virtuosic sonata, to name just a few examples. And one of the many world premiere recordings featured here is an exciting new sonata by Porqueddu himself.
Cristiano Porqueddu, described as "a point of reference for the new generation of guitarists", graduated from the Lorenzo Perosi International Academy in Biella, Italy.
With an extensive knowledge of the technique and interpretation of 19th- and 20th-century music, he has won numerous international awards and now sits on the jury of several major guitar competitions. Porqueddu has made many acclaimed recordings for Brilliant Classics.
---