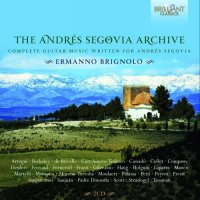 Il Box Set "The Andrés Segovia Archive: Complete Guitar Music" distribuito dall'etichetta discografica Brilliant Classics contiene la registrazione a cura del chitarrista italiano @Ermanno Brignolo dell'intera omonima collana pubblicata dalle Edizioni Bérben di Ancona.
Il contenuto è il seguente: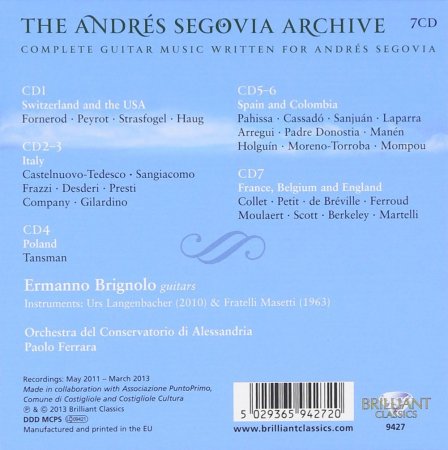 La tracklist dettagliata può essere visionata da questo link.
Dal sito dell'editore:
Andrés Segovia, born in 1893 in Linares, Spain, was one of the most important musicians of the 20th century; a virtuoso guitarist whose contribution to modern-Romantic repertoire included both commissions and transcriptions of baroque/classical works. Until recently, a significant portion of his music library remained either unknown or consigned to the depths of history: only in 2001, when the Italian composer, guitarist and scholar Angelo Gilardino was given permission to open the crates containing the maestro's personal collection of music, did the true extent of his vast repertoire come to light. 
The collection The Andrés Segovia Archive was thus created with the aim of making available to all the works written for Segovia which remained unpublished (and in some cases never performed) during his lifetime, and here it is played by esteemed Italian guitarist Ermanno Brignolo – himself the dedicatee of numerous works by composers such as Ronca and Porqueddu. From Fenerod Peyrot's Thème et variations to Arregui's Piezas líricas, the compilation touches on a number of countries, revealing Segovia's immense international stature at that time. Brignolo presents an engaging tribute to a precious heritage, one whose range of styles has only served to further enrich 20th-century guitar music. 
Qui la traccia Passacaille di Alexandre Tansman, etratta dallo stesso Box Set:
---