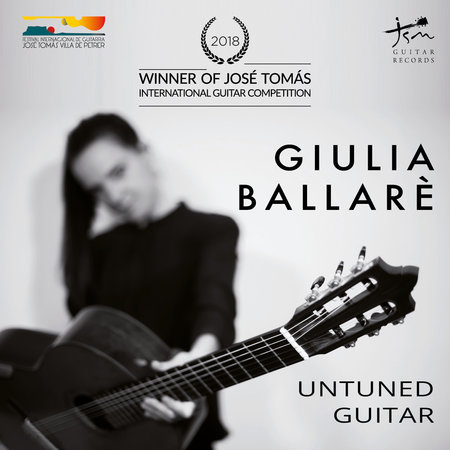 Il secondo CD della chitarrista italiana Giulia Ballarè è da pochi giorni disponibile per l'acquisto sul sito dell'editore JSM Records. 
L'album si intitola Untuned Guitar ed è incentrato sulla musica per chitarra del Novecento e contemporanea.
La tracklist è la seguente:
Leo Brouwer (1939) 
01. La Gran Sarabanda
02. Hika
Tōru Takemitsu (1930-1996)
03. Equinox
Marek Pasieczny (1980)
04. Phosphenes
Lilith Guégamian(1971)
05. La ronde des sorcières et la naissance des déesses
Roberto Gerhard (1896-1970)
06. Fantasia
Maurice Ohana (1913-1992) 
07. Tiento
Nicolas Kahn (1979)
08. Les Arcanes
---
Leo Brouwer (*1939) is a Cuban composer, conductor, and classical guitarist.   In his early compositions, Brouwer remained close to the rhythms of Cuban music, while later he was drawn to aleatoric music.He has written for guitar, piano, and percussion, and has composed orchestral works, ballet, and music for more than one hundred movies. La gran Sarabanda was commissioned by Guitar Foundation of America for the 2018 th International Concert Artist Competition. It's a theme a variations on "folias de España". Hika was written "in memoriam Toru Takemitzu" for Shin-ichi Fukuda. "Hika" is a lament in Japanese musical tradition and it was written in memory of Brouwer's good friend, Toru Takemitsu, is really a sort of mournful elegy in his memory. could be helpful to listen to Takemitsu's "Rain Tree Sketch II" in memoriam of Olivier Messiaen. Open tuning: 2nd string in Bb and 5th string in G.
Tōru Takemitsu (武満 徹 1930 - 1996) was a Japanese composer and writer on aesthetics and music theory. Largely self-taught, Takemitsu possessed consummate skill in the subtle manipulation of instrumental and orchestral timbre. He is famed for combining elements of oriental and occidental philosophy to create a sound uniquely his own, and for fusing opposites together such as sound with silence and tradition with innovation. Equinox was composed in 1994 in Tokyo, to be played in the recital of commemoration of the 25th anniversary of guitarist Kiyoshi Shomura's debut, on April 04, 1994. The piece belongs to what is considered Takemitsu's mature period (in fact, it was one of his very last compositions), and this isclear in his use of harmonic language as well as his rendering of musical form. The connection with nature is also present in the title, and relates directly to the real time of the year in which the composer was writing (the piece was probably finished in March, and premiered in April, spring time in Tokyo). Open tuning: 2nd string in Bb and 6th string in Eb.
Marek Pasieczny (*1980) is a polish composer. Great interest on the part of both guitarists and other instrumentalists is testament to his compositional talent. In 2002 he collaborated with Pat Metheny - one of the greatest guitarists in the history of jazz and with the Polish jazz singer, Anna Maria Jopek. Phosphenes was commissioned by the International Guitar Festival 'Guitar Master 2016' dedicated to the city of Wroclaw (Poland). Open tuning: 5th string in G and 6th string in C.
Lilith Guégamian (*1971) is an Armenian composer (former USSR). Arriving in France, in the Paris region, at the age of 4 years, her early interest in the guitar and began to learn to play by herself. Open tuning: 1st string in Eb 2nd string in Bb and 6th string in C.
Robert Gerhard (1896 - 1970) was a Spanish Catalan composer and musical scholar and writer. He studied piano with Enrique Granados and composition with the great scholar-composer Felip Pedrell, teacher of Isaac Albéniz, Granados and Manuel de Falla. For twenty years Gerhard cultivated, and enormously enriched, a modern tonal idiom with a pronounced Spanish-folkloric orientation that descended on the one hand from Pedrell and Falla, and on the other from such contemporary masters as Bartók and Stravinsky. Gerhard often said that he stood by the sound of his music: 'in music the sense is in the sound'. Yet dazzling as their scoring is, his last works are in no sense a mere succession of sonic events. Their forms are meticulously organized and several make use of his special development of serialism where a twelve-tone pitch series, governing intervallic relations, interacts with a twelvefold time series governing the music's duration and proportions.
Maurice Ohana (1913 - 1992) was a French composer. He originally studied architecture, but abandoned this in favour of a musical career, initially as a pianist. While not having direct Spanish roots, Ohana is inspired by the Andalusian culture, the cante jonde and the African rhythms. He wrote haunting, unique works for the guitar. Although Ohana is perhaps best known for his Tiento (1957) and his guitar concerto Tres Graphicos (1950-57). The Tiento originally consists of a usually organistic composition, of imitative style, analogous to the Italian "ricercare", as it takes place in the style of the "mottetto", that is, in a subsequent series of exhibitions in fugue style on different themes in vogue in Spain since the sec. XVI to the XVIII. Precisely because akin to the Italian "ricercare" it gives a brief excursus of its origins. It appears since the early years of the XVI century to designate an instrumental composition in free form that develops in imitation, generally in canon. Etymologically it indicates the "research" of the timbre-phonic possibilities of the instrument, (similarly for the "Tiento" in the meaning of "trying", "experiment") and the study of the counterpoint possibilities of a musical idea: on the one hand the research- touched, with improvisational character and prelude function; on the other the search-motet, articulated in points of imitation, connected however not by the logic of a text, but by the close relations of the material used.
Nicolas Kahn (*1979) is a french composer. The vast influences of his musical language are rooted in contemporary scholarly music, urban music, world music or American minimalist music. Les Arcanes was the winning work of the 1st "EuroStrings Composition Competition" 2019. Described by Sérgio Assad, who was on the jury, as appealing "directly to our subconsciousness as classical guitarists. This set of miniatures echoes sounds that are embedded in our memories."
---