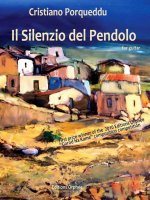 Cristiano Porqueddu - Il Silenzio del Pendolo
Composizione vincitrice dell' "Orphée Composition Competition 2010".
Tema e variazioni sul tema Город на Каме [Gorod na Kame] composto da Lev Alexandrovich Schwartz (1878 - 1962) per il film Детство Горького [Dyetsvo Gor'kovo, Childhood of Maxim Gorky] girato nel 1938 da Mark Donskoi.
In music, the concept of silence, the absence of sound, is just as significant as the actual sound that is contained in each note of a score. At times there is this instance when everything that surrounds man stops vibrating, which enables the mind to hear one's thoughts and give shape to one's dreams. In this composition for guitar the Silence of the Pendulum is not its own hush and neither is it a rip in the fabric of time fixing each moment at a given point in the universe. It is instead, "the moment when a human being, totally taken by art, philosophy or nature, is able to cut himself from everything that surrounds him and in which he does not have any interest, ending up not even feeling the very reality of time." It is this collection of poetry by the Italian poet Antonello Bianchi that was the inspiration for the construction of the six variations on the theme of Город на Каме [Gorod na Kame] composed by Lev Alexandrovich Schwartz (1878 - 1962) for the 1938 Mark Donskoi film Детство Горького [Dyetsvo Gor'kovo, Childhood of Maxim Gorky] also known as the Israeli folk song Dugit Shata. Six different watercolors become transformed, through six different prismatic observations, at times anguished and lugubrious, at times laughing and sprightly, trying to uncover a trail leading from a rarefied atmosphere to base reality, a search of tangibility that cannot lead to practical matters and that cannot succeed except that it would bring about a return to the origin and leaving memory traces that linger in solitude, melancholy and darkness. Cristiano Porqueddu Nuoro, 2010.
Editore: Editions Orphée
---
Maggiori informazioni:
http://www.editionsorphee.com/solos/pendolo.html