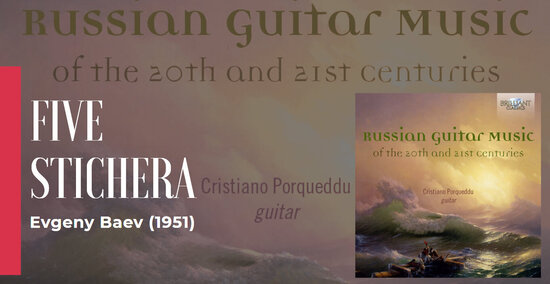 Evgeny Baev (19619 ha scritto i "Five Stichera" nel 1990, dopo la visita al famoso Valaam Monastery nel nord della Russia. Nella liturgia ortodosssa uno Sticheron - plurale Stichera - (in russo: стихира, in greco: στιχηρὰ) è un inno strofico collegato ai versi di un salmo. Poiché la musica liturgica della chiesa ortodossa orientale proibisce qualsiasi l'uso di qualsiasi strumento, scrivere stichera per una chitarra è stato un esperimento audace.  Il compositore non menziona particolari riferimenti a testi contenuti nei salmi ma si preoccupa di trasmettere una sensazione quasi incantata, supportandola con armonie modali e polifonie di stile prettamente russo. 
La registrazione di questi lavori fa parte del cofanetto di quattro volumi "Russian Guitar Music of the 20th and 21st centuries" distribuito da Brilliant Classics. 
Disco disponibile su Amazon.
Qui una playlist su YouTube dalla quale è possibile ascoltarli integralmente: